As an idea-rich advertising agency, we employ some of the most novel ways of providing your brand a significant impetus to increase your sales. We specialize as a complete integrated communication ad agency and provide 'eye catchy, thought provoking and memorable' Logo and Brochure Designs, Newspaper ads, Radio Ads, TVC, Corporate Films, PR Releases, Magazine Ads, Leaflet Designs, creative Wordpress Website Development, Brand Development, Re-branding, Product Launches, creative Website Content Writing, Custom Designs and much more, to our prized clients. We are the leading poster design company, brochure design company Bangalore and logo design company Bangalore.
When you have your brand all set to hit the market floors and you want your brand story to be carried everywhere. All that you need is printed or digital media material through which you would like to tell a tale that would speak volumes. The key lies in conveying the information in a harmonious flow maintaining a theme and an appropriate layout suited to your brand. To find a brochure designing company that understands your brand value enough to design one is a task smoothly handled only by experts, and you've reached the right place as a highly innovative and creative advertising agency, we excel in providing your brand with a significant boost required to enhance sales leading to an exponential rise.

With our recognized as a fully integrated communication ad agency, we offer captivating and thought-provoking solutions by pushing boundaries such as logo and brochure designs, newspaper ads, radio ads, TV commercials, corporate films, PR releases, magazine ads, leaflet designs, pamphlets, creative WordPress website development, brand development, rebranding, product launches, engaging website content writing, custom designs, and much more to our valued clients. We take pride in being the leading brochure design company in Bangalore. Our comprehensive range of services ensures the quality that your brand needs in order to stand out from the competition and leave a lasting trail of impressions on your target audience.
You may come across many brochure design companies offering their services. But, how many can you find that really understand the needs of your brand and the core values that your company is built upon. Finding the right fit is a task and we, here at BUD, help you twist the tale with creativity and improve the quality to the highest level.
Unveiling the Power of Effective Brochure Content for Your Brochure Brand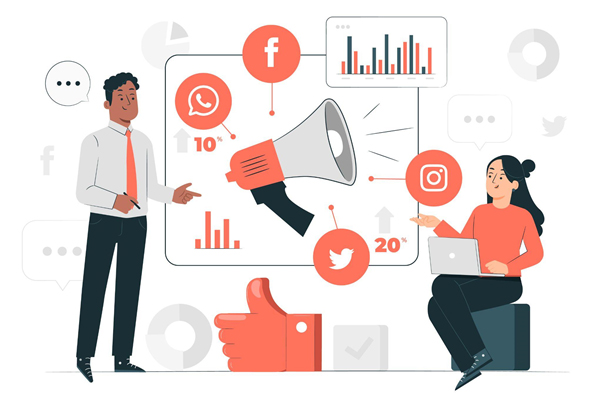 In today's competitive business landscape where making a compelling point to stand out and shine in a unique way is incredibly important. Having a visually appealing and informative brochure is essential for companies to capture the attention of potential customers. A well-designed brochure with engaging content and a good flow of creativity can serve as a powerful marketing tool, showcasing the unique offerings and values of a company. For it is the content and the essence surrounding it within the brochure that truly breathes life into its pages. Let us explore the significant features of compelling brochure content and the various routes it takes to help your brochure company stand out from the crowd.
Understanding the Purpose of Brochure Content
The content inside your brand's brochure tells the tale of your brand and it serves as the voice of your company, conveying the message, product description, employee information, and services to your target audience. At BUD we carefully craft ideas to build a layout that engages readers, we create interest, and ultimately drive action which would ultimately lead to building traction not just in the print world but also digitally. The purpose of brochure design content companies such as BUD is to educate, inspire, and persuade, providing valuable information that relates to the readers and compels them to take the desired next step.
Creating a Captivating Headline
People pick a book if the title is catch-worthy. The headline of your brochure plays a prominent and significant role in grabbing the attention of your audience and piquing curiosity. It should be to the point, concise, memorable, and aligned with your company's values and offerings. At BUD, you will find us boosting the image of your brand with a strong headline that instantly communicates the message and yet uniquely maintains the image of your brand is something that BUD - a good brochure design company stands for.
Compelling Copywriting Techniques
Effective brochure content utilizes persuasive copywriting techniques to connect with the target audience on an emotional level. The routes are effective yet creative. The vocabulary should be crafted in a manner that is easy to understand and yet formulated innovatively. Brochure designs with strong writing incorporate storytelling and highlight the benefits, and the solutions your company provides will be carefully deciphered by BUD - the best brochure designing company in Bangalore. Engaging content and concise sentences, along with a clear and conversational tone, help readers veer through the content effortlessly. By focusing on the reader's needs and desires, the content becomes relatable, and compelling and not to forget is remembered no matter how long time passes by.
Showcasing Benefits and Features
Brochure content should be able to emphasize the benefits and the salient features of your products or services to its particular set of niche audiences. It is very essential to highlight how your products or services can solve problems or fulfil desires, demonstrating the value customers can gain by choosing your company. At BUD creative ad agency with the aid of Visual aids, such as high-quality images or infographics, we can further enhance the impact of the content, providing a visually appealing experience that supports the message. It also increases the credibility of your brand, which in turn helps to bring in loyal customers.
Call-to-Action and Contact Information
A well-orchestrated brochure design should infer a strong call-to-action (CTA) that compels and allows readers to take the desired action, such as making a purchase, contacting your company, making necessary queries, or visiting your website. Additionally, including clear and easily accessible contact information, such as phone numbers, telephone numbers, email addresses, and website URLs, is absolutely important to facilitate direct engagement with potential customers. We here at BUD, don't just put on our thinking caps but we wear them with style to deliver better brochure designs and content.
Did you know that the power of effective brochure design content cannot be underestimated, speaking of both print and digital? It serves as the informative bridge between your company's offerings and the target audience, enabling you to create a lasting trail of impressions and drive positive business growth. This is why here at BUD brochure designing services Bangalore, by crafting captivating headlines, creatively formulating ideas, employing persuasive copywriting techniques or creative writing, and showcasing the advantages and features of your products and services, your brochure designs can become a powerful marketing tool. So, take the time to invest in creating a compelling and strong brochure design services company, for the content reflects your company's values and principles. At our advertising agency, we resonate with your audience and watch as it brings your brand's vision to life. We help to create engaging yet responsive brochure content that captivates readers and captures the interest of your target audience, leaving a lasting impression of your brand's services.
Logo Design Company, Bangalore:
Your logo is your personality and one of the most challenging creative services that an ad agency can undertake. We empower your brand to stand out from the crowd. Our talented team specializes in creating captivating logos that leave a lasting impression. With a proven track record, we deliver unique and memorable logos that fuel brand growth. Trust our innovative approach as we bring your brand vision to life. Elevate your brand identity and set yourself apart with a logo that captures your business essence. Choose us for exceptional logo design services and unlock your brand's full potential.
Poster Design Company, Bangalore:
Posters are extremely influential – the right design and content will ensure the message is put across to the audience in the most effective manner. We help you design customized posters with innovative ideas and visually appealing graphics which will help maximize your sales revenue.BUD India is one of the leading creative ad agency in Bangalore. Check out our services and works in the field of branding.
E-newsletter Design Company, Bangalore:
These being the most effective and continuous ways of getting in touch with your customers, on a regular basis, we ensure we design attention-grabbing and creative e-newsletters/e-mailers, which will always help keep your business in the spotlight. Bud is one of the best social media marketing company in Bangalore